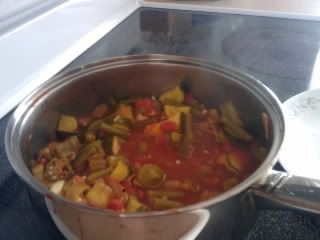 Yes... yes I did, LOL. You're looking at my rendition of a Turkish-Style Vegetable Stew from a recipe published in the January 2000 edition of Vegetarian Times.
My version calls for:
2 tsp. Olive oil
1 Medium onion, halved then sliced
4 Medium cloves garlic, peeled and crushed
12 oz Green beans trimmed then cut crosswise (I used 12oz by accident, recipe called for 6oz)
6 oz Okra, trimmed and cut into 1/2-inch-thick slices (I used frozen )
2 cans of 14.5 oz Diced tomatoes
2 cups Vegetable broth (likewise I used 2 cups on accident, the original called for 1/2 cup)
1/2 tsp. Ground cumin
2 medium Zucchini, quartered lengthwise and cut into 1/2-inch chunks
1 tbs. Fresh chopped dill
1 tsp. Sea salt
1/2 tsp. Fresh ground pepper
In a large saucepan, heat oil over medium-low heat. Add onion and half the garlic and cook until onion is softened, about 5-7 minutes. Stir in green beans, tomatoes, broth and cumin. Bring to a boil then reduce heat to low, partially cover and simmer, stirring occasionally for 15 minutes. Increase heat to medium low. Stir in zucchini, dill, okra, salt and pepper, cover and cook until zucchini is just tender, about 8 minutes. Serve hot.
I served over a bed of rice and added the second half of the garlic to the leftovers along with some barley.
It can also be served with pitas, hummus, Greek olives and feta cheese on top.
Personally this was very fun to make, especially cooking the onions, there was just something cool about actually COOKING LOL. It was also encouraging that even though I messed up a few points of the original recipe the meal still worked out well and was very delicious. Plus there were plenty of leftovers So I should be able to enjoy this tomorrow.
Well, I'm gonna put this recipe as a success and hope to continue my culinary rehabilitation in the future! ^_^
Aika